Over 100 lower league clubs from across the nation are squaring off on the virtual pitch in the Lower League eCup, presented by Protagonist Soccer and Hotspot Conferencing. During this unprecedented time amidst COVID-19, the eCup was organized as a way for teams, supporters, players, and fans to come together and continue to support national soccer from the comfort of their own home.
The eCup will also be raising funds for lower league clubs in danger of folding due to COVID-19. Proceeds will be distributed to clubs that are nominated and selected.
The Jacksonville Armada FC will be represented by 19-year-old Louis Llerandi. He will be playing in the Xbox One Group C.
Jacksonville Armada fans can watch Louis play via the team's Twitch stream (JaxArmada) and follow updates on social media (@jaxarmadafc and @lowerleagueecup) on Twitter and Instagram. Fans are encouraged to share how they are watching using the hashtag, #eCuptailgate.
JACKSONVILLE ARMADA FC GROUP STAGE MATCHUPS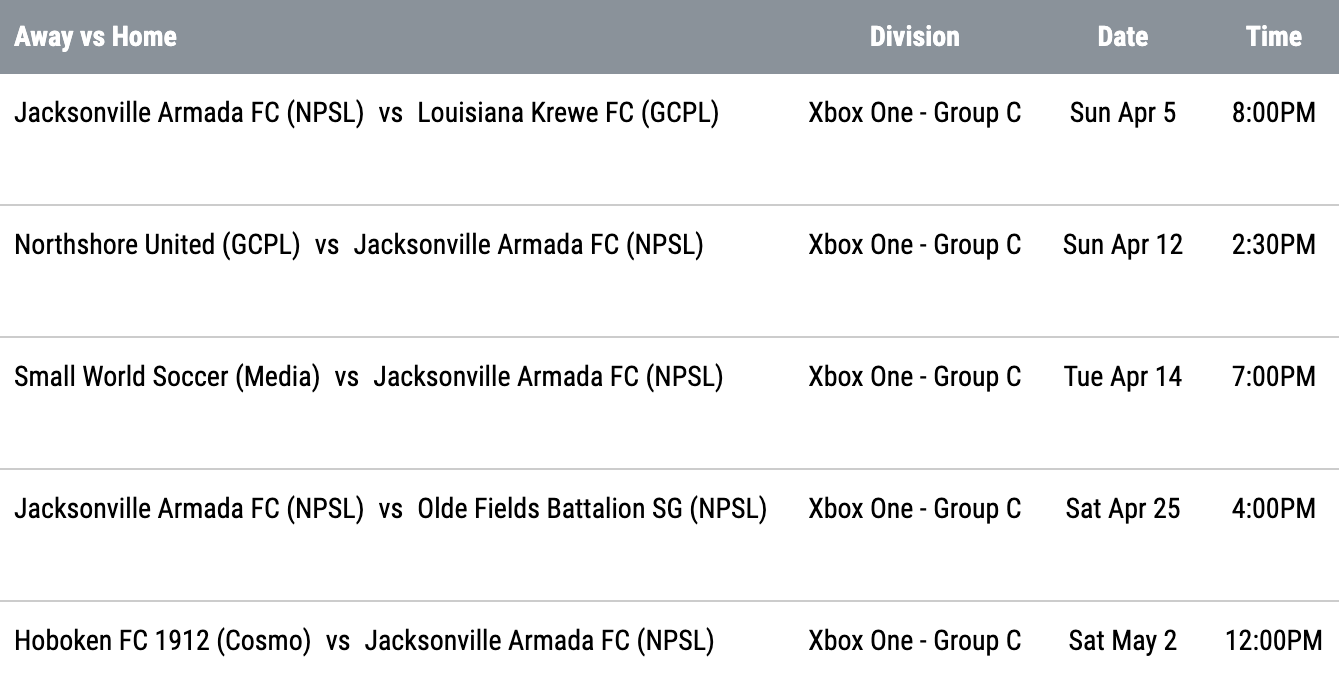 TOURNAMENT SCHEDULE
Group Stage Week #1 - Monday, March 30 to Sunday, April 5
Group Stage Week #2 - Monday, April 6 to Sunday, April 12
Group Stage Week #3 - Monday, April 13 to Sunday, April 19
Group Stage Week #4 - Monday, April 20 to Sunday, April 26

Group Stage Week #5 - Monday, April 27 to Sunday, May 3

Round of 48 - Monday, May 4 to Thursday, May 7

Round of 32 - Friday, May 8 to Sunday, May 10

Round of 16 - Monday, May 11 to Thursday, May 14

Quarterfinals - Friday, May 15 to Sunday, May 17

Semifinals - Saturday, May 23

Final - Saturday, May 30