Coastal Cup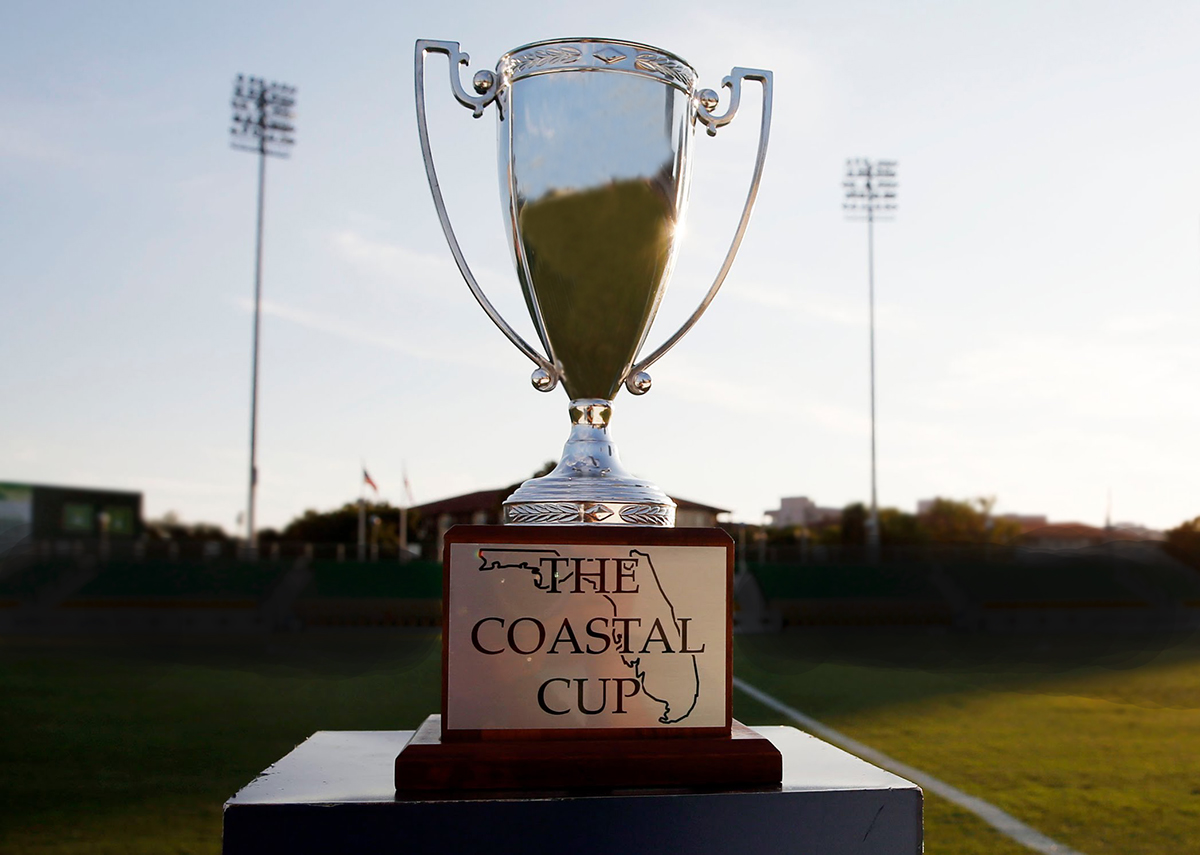 The Coastal Cup was first contested in 2010 as part of the fifth incarnation of the Florida Derby, between FC Tampa Bay and the original Miami FC, while both were members of the D2 Pro League. Within two years, both teams rebranded using the names of the historic North American Soccer League clubs from the two regions of Florida and were themselves part of the new NASL.
The Tampa Bay Rowdies won the first four Coastal Cups, with the Fort Lauderdale Strikers finally breaking through in 2014 and repeating in 2015. The Armada FC entered the derby in 2015, making the Coastal Cup a triangular competition. With Miami FC joining the NASL in 2016, the Coastal Cup is now a four-team competition.
How the Coastal Cup Works
Points are recorded in the Coastal Cup standings from head-to-head regular season matchups between the three teams in the competition. No fixtures with clubs outside of the three teams involved nor preseason contests count in the standings. The club with the most combined points from derby matches at the end of the NASL Fall Season will be awarded that year's Coastal Cup.
2016 Coastal Cup Standings
| Team | Pts | Pld | W | D | L | GF | GA | GD |
| --- | --- | --- | --- | --- | --- | --- | --- | --- |
| Tampa Bay Rowdies | 14 | 9 | 3 | 5 | 1 | 15 | 11 | 4 |
| Jacksonville Armada FC | 13 | 9 | 3 | 4 | 2 | 12 | 11 | 1 |
| Fort Lauderdale Strikers | 10 | 9 | 2 | 4 | 3 | 9 | 11 | -2 |
| Miami FC | 8 | 9 | 1 | 5 | 3 | 10 | 13 | -3 |

Tiebreakers: 1. Goal Differential - 2. Total Goals - 3. Head-To-Head Record - 4. Away Goal Difference - 5. Away Goals Scored
Remaining 2016 Coastal Cup Matches

2016 Coastal Cup Results
April 2 - Strikers 1, Miami FC 1 - Lockhart Stadium (Fort Lauderdale, Fla.)
April 9 - Miami FC 1. Rowdies 1 - FIU Stadium (Miami, Fla.)
April 15 - Armada 2, Miami FC 1 - Community First Park (Jacksonville, Fla.)
April 23 - Strikers 1, Armada 1 - Lockhart Stadium (Fort Lauderdale, Fla.)
April 30 - Rowdies 1, Strikers 0 - Lockhart Stadium (Fort Lauderdale, Fla.)
June 11 - Armada 1, Rowdies 1 - Community First Park (Jacksonville, Fla.)
July 2 - Rowdies 1, Armada 1 - Al Lang Stadium (St. Petersburg, Fla.)
July 2 - Strikers 1, Miami FC 1 - Lockhart Stadium (Fort Lauderdale, Fla.)
July 16 - Miami FC 1, Armada 0 - FIU Stadium (Miami, Fla.)
July 30 - Strikers 1, Armada 0 - Lockhart Stadium (Fort Lauderdale, Fla.)
Aug. 6 - Rowdies 2, Strikers 1 - Al Lang Stadium (St. Petersburg, Fla.)
Aug. 13 - Strikers 2, Miami FC 0 - Lockhart Stadium (Fort Lauderdale, Fla.)
Aug. 17 - Armada 1, Strikers 1 - Community First Park (Jacksonville, Fla.)
Sept. 24 - Rowdies 4, Strikers 1 - Central Broward Regional Park (Fort Lauderdale, Fla.)
Oct. 1 - Miami FC 1, Rowdies 1 - Al Lang Stadium (St. Petersburg, Fla.)
Oct. 15 - Miami FC 2, Rowdies 2 - FIU Stadium (Miami, Fla.)
Oct. 19 - Jacksonville Armada 3, Miami FC 2 - Community First Park (Jacksonville, Fla.)
Oct. 30 - Jacksonville Armada 3, Tampa Bay Rowdies 2- Community First Park (Jacksonville, Fla.)
Previous Winners:
2010 - FC Tampa Bay
2011 - FC Tampa Bay
2012 - Tampa Bay Rowdies
2013 - Tampa Bay Rowdies
2014 - Fort Lauderdale Strikers
2015 - Fort Lauderdale Strikers
2016 - Tampa Bay Rowdies