JACKSONVILLE, Fla. (January 22, 2015) - The Armada FC, Jacksonville's new North American Soccer League team, made another splash on Wednesday with the signing of former Australian A-League and Chinese Super League attacking midfielder Marcos Flores (MAR-khos FLOOR-es), pending international clearance approval.
Flores, a 29-year-old from Reconquista, Argentina, brings his impressive overseas resume to the Armada FC after spending five years in the Australian top division A-League and a short period in the Chinese Super League. He comes to Jacksonville after spending the 2014 season with the Australian A-League's Newcastle Jets.
"I want to thank Mark Frisch and Dario Sala for this great opportunity," Flores said. "I am very excited to bring my experience and strong work ethic to Jacksonville. I cannot wait to start contributing to the team and connecting with the Northeast Florida community."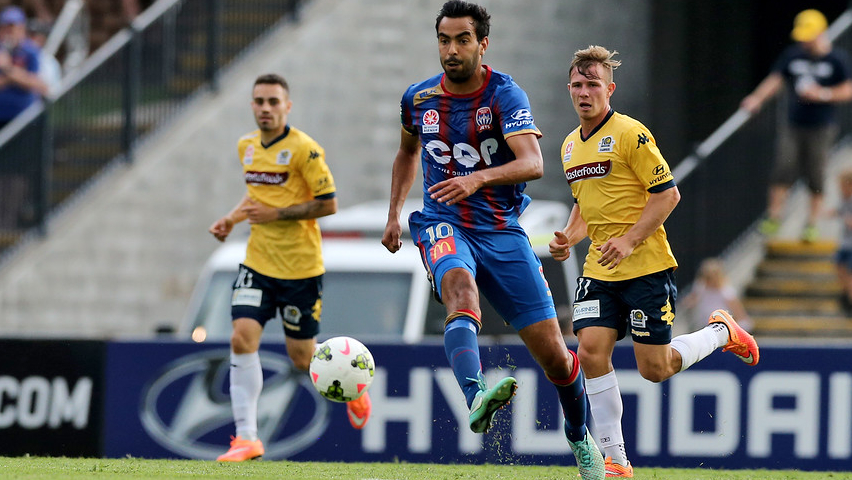 Flores' honors include an 2011 A-League Goal of the Year, 2011 Adelaide United's Player of the Year, and the 2011 Johnny Warren Medal, which is awarded to the best player in the Australian national club competition.
"We are very fortunate to have signed a player with Marcos' talent and character," said Armada FC Owner Mark Frisch. "He will be a tremendous addition to our club both on and off the pitch."
"Marcos brings a wealth of top-level experience to our club," said Armada FC General Manager Dario Sala. "This is a significant signing for the Armada. I look forward to seeing him make a strong impact not just on the field but also in the locker room and in the community."
Flores made his professional debut in 2003 with Unión de Santa Fe after spending two years in the club's academy system. He scored nine goals over three years with the club before being transferring to Argentinian Primera division side Newell's Old Boys in 2006. He was loaned back to Unión de Santa Fe for the remainder of the 2008 season after 16 appearances.
A transfer to second division Chilean club Curicó Unido helped Flores attract international attention, and in 2009, Flores was signed by Australian A-League side Adelaide United. In 2010-11, his most successful season, Flores scored nine goals in 31 appearances. That year he was awarded the A-League Goal of the Year, the club's Player of the Year honor and was part of the club's squad for the 2010 Asian Football Confederation Champions League.
His performances in the A-League and international competition garnered attention from top division Chinese club Henan Jianye, where he spent one year before returning to Australian soccer. Flores also spent time with Australian A-League clubs Melbourne Victory and Central Coast Mariners.
Flores joins Nico Zaldana, Jaime Castrillón and Lucas Rodriguez as part of the growing contingent of midfielders on the Armada FC squad.
The Armada FC hits the pitch for its historic debut match against Major League Soccer's Philadelphia Union at 5:30 p.m. Saturday, Feb. 7 at EverBank Field. Tickets are available to the general public, starting at $14 per seat, by visiting jaxevents.com, armadafc.com or calling the Armada FC ticket office at 1.844.2.ARMADA during office hours. Tickets for the match can also be purchased as part of a six-match half-season ticket from $12 per match and as part of a 16-match season ticket starting at $10 per match.