Armada FC Public Relations | June 24, 2015
JACKSONVILLE, Fla. – The Jacksonville Armada FC will host world-renowned Argentinian soccer club Boca Juniors in the club's first-ever International Friendly match at 8 p.m. ET this Saturday at EverBank Field.
The match will be broadcast from Jacksonville to a potential television audience of over 100 million in North, South and Central America on ESPN and DIRECTV. The match will also be televised locally on CW17, on the Armada FC website and nationally on the NASL website, as well as live on radio on Sports Radio 930-AM in Jacksonville and streamed on the iHeart Radio stream.
Club Atletico Boca Juniors is one of the biggest club teams in the world and boasts a formidable following of more than 40 percent of the entire Argentinian population. The club currently has more than seven million followers on Facebook. The teams will play for the International Community Cup, presented by Community First Credit Union, and the match will feature the home team Armada taking on some of the best club soccer players in the world.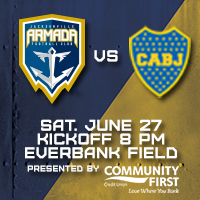 The Armada FC has teamed up with Visit Jacksonville, JAXChamber, JAXUSA and the City of Jacksonville to present Jacksonville to the massive television audience throughout Saturday night's international broadcasts. Visit Jacksonville CEO Paul Astleford will conduct the pre-match coin toss alongside John Hirabayashi, president and CEO of Community First Credit Union. The match broadcast will feature advertisements and promotional videos from Visit Jacksonville and JAXUSA. Astleford will join Cole Pepper in the broadcast booth at halftime to introduce the city to the TV audience.
Former NFL kicker Martin Gramatica, himself a huge Boca Juniors fan who was born in Buenos Aires, will also be on hand to raise the Armada FC flag pre-match, and halftime will feature a number of spectacular soccer-style promotions including the Winn-Dixie Bubble Battle, Brumos Grand Prix, Subway Tailgater of the Match and Moe's T-Shirt Toss. As usual, Armada players will sign autographs at pitch-side immediately following the match.
"The international exposure that the Armada vs. Boca Juniors game will provide Jacksonville to new markets in Argentina and around the world, gives us an exclusive opportunity to showcase the city not only as the huge sports destination that it is, but we will also be able to shine the spotlight on Jacksonville as a great destination for visitors to travel to and enjoy our many unique attributes, like our extensive park system, fun beaches, many festivals, great dining and vibrant arts and entertainment scene," said Astleford. "Visit Jacksonville is committed to working with the Jacksonville Armada to amplify Jacksonville's message to new soccer audiences all over the area, nation and the world."
"From the very start, the Armada has been a great force in engaging our community," said Hirabayashi. "Soccer is just coming into age here, so we thought it would be a great partnership to take our local presence and bring this great sport to the Jacksonville and to kind of promote something that is family friendly for everybody. I can't speak highly enough about our partnership with the Armada. This is a value-added opportunity to get our name out there and help contribute to the larger cause, which is giving Jacksonville an international presence and building soccer in our community."
The Armada's traditional "March to the Match," led by supporters group Section 904, will begin in parking lot D at 7:30 p.m. All fans are encouraged to join the march to get into the stadium in good time prior to the kickoff.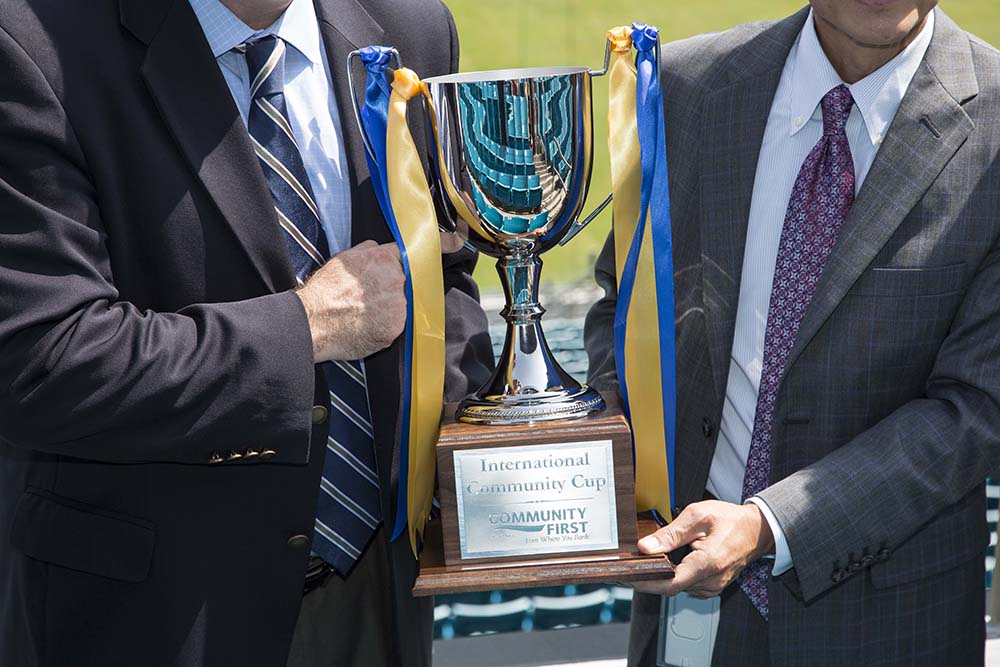 Tickets for the prestigious match-up, co-produced by Onside Entertainment, start at $14 per seat and are available by contacting the Armada FC ticket office at 1.844.2.Armada and on the Armada FC website at armadafc.com.
Current Armada FC 20-match season ticket owners, and fans who purchase the Armada FC's Fall Season Ticket Package, will receive entry to the Boca Juniors friendly as part of their season ticket package. Fall Season Tickets, which includes the Boca match and 10 fall season NASL matches, start at $99 per seat.
The Boca Juniors match will also be available as part of a Summer Triple-Pack mini-plan offering that will include the Armada's first two home matches of the Fall NASL season at Community First Park against New York Cosmos on July 18 and Minnesota United on Friday July 31. The Summer Triple-Pack starts at $36.
The Armada FC have a strong Argentinian connection with Boca in head coach Guillermo Hoyos, who played for Boca Juniors from 1986-1989. With six Argentinian players on the Armada squad – Marcos Flores, Bochy Hoyos, Fabricio Ortiz, Lucas Rodriguez, Lucas Scaglia and Lucas Trejo – the friendly international presents an ideal fit for the Armada's mid-season international matchup.
Current star players for Boca Juniors include Uruguayan midfielder Nicolas Lodeiro and the striker Daniel Osvaldo, known as "El Loco," who has teamed up in attack with a slew of world-class strikers including Cristhian Chavez, Juan Manuel Martinez and Jonathan Calleri.
Under head coach Rodolfo Arruabarrena, a former Argentina international and Boca left back who took the Boca reigns in 2014, Juniors play a similar possession-orientated, attack-minded style of soccer as the Armada, which should make for a thrilling encounter on Saturday night. Both clubs also share a similar uniform color scheme in blue and gold. Boca will wear their traditional blue uniforms, while the Armada will sport their all-white inaugural uniforms for the last time.
About Club Atletico Boca Juniors
Club Atletico Boca Juniors are one of the world's best-known soccer club sides and arguably the most successful club team in South America. Based in the La Boca neighborhood of Buenos Aires, the club was formed 110 years ago, on April 3, 1905. Although many activities are hosted by the club, Boca Juniors is best-known for its professional football team which, since it was promoted in 1913, has always played in the Argentine Primera División. The club currently sits second in the league at the midway point of the 2015 season, one point behind San Lorenzo with a game in hand. Boca Juniors is the most successful club team in Argentina, having won 63 official titles to date. National titles won by Boca Juniors include 30 Primera División championships, and 11 domestic cups. Internationally, the team has won 18 international titles recognized by FIFA, second in the world for number of international titles won, together with A.C. Milan and Real Madrid C.F., and behind Al Ahly SC with 20 international titles. Other international official titles won by the powerhouse club include Rioplatenses competitions Tie Cup, Copa de Honor Cousenier and Copa Escobar-Gerona, organized by the Argentine and Uruguayan Football Associations. Boca Juniors is also one of only eight teams to have won CONMEBOL's treble (the others being Olimpia, São Paulo, Independiente, Vélez Sársfield, Cruzeiro, Internacional and LDU Quito). Their success usually has Boca ranked among the IFFHS's Club World Ranking Top 25, which they have reached the top position six times (mostly during the legendary coaching tenure of Carlos Bianchi). Boca was also named by the IFFHS as the top South American club of the first decade of the 21st century (2001–2010) and they are currently ranked sixth in the IFFHS standings. Boca has always had a fierce rivalry with River Plate, due to both clubs being established in La Boca. Derby matches between them are known as the Superclásico, and are one of the most heated rivalries in Argentina and the world. Boca's home stadium is Estadio Alberto J. Armando, which is colloquially known as La Bombonera. The youth academy has produced many Argentine internationals such as Oscar Ruggeri, Sebastián Battaglia, Nicolás Burdisso, Carlos Tevez, Éver Banega, and Fernando Gago, who have played or are playing for top European clubs.